Pharma's myth on the cause of AS: There are two answer the standard one spread by pharma and its KOLs, which promotes drug sales and doesn't prevent chronic illness. The evidence that undercuts the cholesterol-LDL theory has been set out at Cholesterol Myth, Cholesterol Myth, History and FH, and The great cholesterol myth Kendrick . LDL not only functions to transport vital cholesterol & fats to cells and organs in need, but also as part of the immune system. Reading pharma's account of reactive chemicals attaching to LDL in the tunica media of the artery walls is not convincing. Simply put, they observed oxidative damage to LDL following transport through the endothelial barrier on the artery wall (see diagram above). But is an area of low activity, it should be happening at a higher rate in organs of high metabolism and those like that use in biosynthesis large amounts of cholesterol such as the goal bladder—but it doesn't. Moreover pharma's KOLs write of an inflammation response to the damage LDL, but fail to note that pathogens are also present in the atheroma. Hundreds of journal article confirm their presence and role in AS. The KOLs ignore the awkward.[1] They also ignore the immune system function of HDL and LDL (see links above).
The causes of AS (in order of significance) pathogens: "AS may be caused by an infection of the vascular smooth muscle cells. For example, Cytomegalovirus (CMV) infection is also associated with cardiovascular diseases.[13] In time, as cells die, this leads to extracellular calcium deposits between the muscular wall and outer portion of the atheromatous plaques. The accumulation of calcium leads to a loss of elasticity and stiffening of the artery as a whole" Wiki. This is a gross understatement of their role: "However, the cumulative evidence may support that as part of innate immunity, lipoproteins may also broadly prevent or inhibit bacterial, viral and parasitic infections. Lipoproteins can detoxify lipopolysaccharide and lipoteichoic acid. Lipoproteins neutralize a vast of enveloped and non-enveloped DNA and RNA viruses. Staphylococcus aureus -toxin is bound and inactivated by purified LDL. LDL also directly binds to some bacteria," at. Hundreds of journal articles going back nearly a century describe the presence of bacteria and viruses in atheroma, and related affects. "A rapidly-expanding volume of research is implicating common infectious agents—including the respiratory but Chlamydia pneumoniae, the ulcer-causing Helicobacter pylori bacteria, herpes viruses such as cytomegalovirus, and Herpes simplex and even dental infections—as playing a direct role in the instigation and progression of CHD…. A review of thirteen published studies in which researchers went hunting for the organism [Chlamydia pneumonia] in arterial tissues showed that the organism could be detected in over half of all atheromas, but in only 5 percent of adjacent, lesion-free arterial tissue samples 207-208…. [e]xamined fifty human atheroma specimens, they found that forty-four percent were positive for one or more strains of periodontal bacteria," p 208, The Great Cholesterol Con, Anthony Colpo, 2006. For journal articles go to infection in artery wall causes CVD and Major Cause of Atherosclerosis. Infectious agents are the principle cause of AS, not a minor cause. It is why over half of all AMI occur in those with normal levels of cholesterol and without metabolic syndrome.
Other factors accelerate the process started by infectious agents: Thus the three main causes of AS are oxidation and glycation of LDL and the presences of virus or bacteria in the artery walls. The role of infection is a main reason why over 45% of those with their first MI are in the low risk population. AS causes hypertension by stiffening the artery walls which increases blood pressure and the risk of thrombosis. The most significant are reactive chemicals, which come mainly from external sources such as carbon monoxide, dietary sugars, other dietary chemical both natural and man-made, and products of cellular biosynthesis and metabolism. The main source of carbon monoxide is cigarettes; the sugars come from carbohydrates. Among the natural dietary chemicals are trans- fats and polyunsaturated fats high in omega 6 fatty acids. For detail account of the role of carbs, of fats in diet and AS.
Hypertension is a marker for AS. It is the young unstable plaque that leaks and the subsequent thrombosis (clot) that cause of over 80% of the MIs. Hypertension's affect upon progression of AS and unstable young plaque to MI is minimal; moreover, the drug treatments pushed by pharma are not worth the side effects. Since blood pressure goes up, the finding through imaging of an association with the quantity of plaque, doesn't prove a cause, rather hypertension is a result of the AS. This was the wisdom printed in medical textbooks in the 1940, and pointed out the futility of drug intervention to reduce hypertension as to positive endpoint results of death and acute ischemic events, at. The best choices are the various ways to reduce the risk for continued development of atheroma, which are detailed at the end of this paper. What is good for blood vessels also reduces blood pressure--for more on hypertension and treatments.
"Athero-embolism, cholesterol embolism, sometimes blue toe or purple toe syndrome or trash foot or warfarin blue toe syndrome occurs when cholesterol [and other constituents of plaque] are released usually from an atheroma and travels along with the blood stream (embolism) to other places in the body, where it obstructs blood vessels. Most commonly this causes skin symptoms (usually livedo reticularis), gangrene of the extremities and sometimes renal failure; problems with other organs may arise, depending on the site at which the cholesterol crystals enter the bloodstream. [Other articles list spleen, pancreas, brain, heart, kidney, eyes, legs, feet]. When clotting occurs (thrombosis) if in a major coronary artery it can result in AMI. It develops about 5% of the time following PCI, may develop after the commencement of anticoagulants or thrombolytic medication that decrease blood clotting or dissolve blood clots thus freeing upon the plaque to travel downstream" Wiki. Cholesterol embolism is very strongly associated with invasive procedures: confirmed in 20 of 22 patients in a histologically post mortem proven cases. Cholesterol embolism issues became evident within 3 months, most within 3 weeks, at. This event is typically attributed to natural events, thus the 5% figure is Wikipedia is quite low[2]. Terming it "cholesterol embolism" instead of "athero-embolism" is another way that pharma distorts the picture--plaque is far more than just cholesterol.
---
[1] If they didn't, they would be KOLs. Ignore the Awkward is the type of Prof. Uffe Ravnskov book on the cholesterol myth
[2] "Embolization of cholesterol crystals from ulcerated atheromatous lesions can produce distinct syndromes that mimic more common disease processes. Cholesterol emboli can present as renal failure, hypertension, spells of numbness, abdominal pain, and myocardial infarction, or as a multisystem disease that closely approximates the presentation, clinical course, and even biopsy picture of polymyositis or periarteritis nodosa. A review of this problem with particular attention to the clinical presentations should help in the early diagnosis and treatment of cholesterol emboli and avoid unnecessary and inappropriate therapies" at The Great Masuerader.
Thrombosis: "(Greek: θρόμβωσις) is the formation of a blood clot (thrombus; Greek: θρόμβος) inside a blood vessel, obstructing the flow of blood through the circulatory system. When a blood vessel is injured, the body uses platelets (thrombocytes) and fibrin to form a blood clot to prevent blood loss. Even when a blood vessel is not injured, blood clots may form in the body under certain conditions. For example, leaking plaque can partially plug a coronary artery and initiate the clotting process further occluding the coronary artery and this can result in a heart attack. Hypoxia, oxygen deprivation, occurs and metabolic products such as lactic acid can accumulate. A larger thrombus causing a much greater obstruction to the blood flow may result in anoxia, the complete deprivation of oxygen and infarction, tissue death. A clot that breaks free and begins to travel around the body is known as an embolus." Wiki.
Myocardial infarction (MI) or acute myocardial infarction (AMI) is the medical term for an event commonly known as a heart attack. It happens when blood stops flowing properly to part of the heart and the heart muscle is injured due to not getting enough oxygen. Usually this is because one of the coronary arteries that supplies blood to the heart develops a blockage due to an unstable buildup of cholesterol and fat and foam cells. The event is called "acute" if it is sudden and serious. The resulting ischemia (restriction in blood supply) and ensuing oxygen shortage, if left untreated for a sufficient period of time, can cause damage or death (infarction) of heart muscle tissue (myocardium). A sizeable proportion of myocardial infarctions (22–64%) are "silent", that is without chest pain or other symptoms. There are 2 basic types of AMI involving a major coronary artery: 1) transmural which is associated with AS involving a major coronary artery, and extends through the whole thickness of the heart muscle. 2) Subendocordial, involving a small area in the subendocardial wall of the left ventricle, ventrical septum, or papillary muscles. For signs of MI read Heart Attack & Treatment Choices, which also lists risk factors, diagnosis, and treatment choices, including those supported by marketing science studies and rubber stamped into a protocol by pharma friendly organizations including the FDA and American Heart Association. The major reduction in the death rate from MI since the 1980s results from prompt sublingual 325 mg aspirin and nitroglycerin and the development of thrombolysis and PCI--not statins as Pharma teaches. The reduction occurred prior to the wide use of statins—though pharma of course claims the credit.
"Yet despite these medical advances, with success in reducing the symptoms of angina and reduced blood flow, atheroma rupture events remain the major problem and still sometimes result in sudden disability and death despite even the most rapid, massive and skilled medical and surgical intervention available anywhere today. According to some clinical trials, bypass surgery and angioplasty procedures have had at best a minimal effect, if any, on improving overall survival. It is also clear that both angioplasty and bypass interventions do not prevent future heart attack" Wiki. This has been known since the 70s, but by KOLS to physicians, and thus patients.
LDL is the transport system for cells that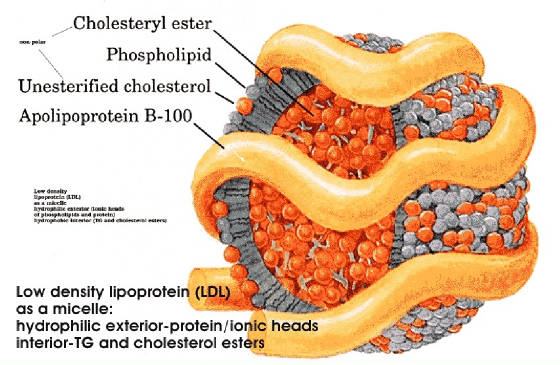 need cholesterol and triglycerides
Treatments: THROMBOLYSIS "Is the breakdown (lysis) of blood clots[1] by pharmacological means and is colloquially referred to as clot busting. It works by stimulating fibrinolysis by plasmin through infusion of analogs of tissue plasminogen activator (tPA), the protein that normally activates plasmin [body's method of breaking down a blood clot.] Thrombolysis suggests the use of thrombolytic drugs, which are either derived from Streptococcus species, or, more recently, using recombinant biotechnology whereby tPA is manufactured by bacteria, resulting in a recombinant tissue plasminogen activator or rtPA. Some commonly used thrombolytics are: streptokinase, urokinase, and the recombinant tissue plasminogen activators (alteplase (rtPA), reteplase, tenecteplase). Most thrombolytic agents work by activating the enzyme plasminogen, which clears the cross-linked fibrin mesh (the backbone of a clot). This makes the clot soluble and subject to further proteolysis by other enzymes, and restores blood flow over occluded blood. Thrombolysis is used effectively for myocardial infarction, stroke (ischemic stroke)[4], massive pulmonary embolism, acute limb ischaemia. Apart from streptokinase, all thrombolytic drugs are administered together with heparin[1] (unfractionated or low molecular weight heparin), usually for 24–48 hours[2] while anticoagulants decrease "growth" of a clot, thrombolytic agents actively reduce the size of the clot" Wiki. The ruptured plaque is now being dissolved and broken up by the flow of blood, and recapped by endothelial cells. Thrombolysis is commonly used also for ischemic stroke, massive pulmonary embolism, and acute limb ischemia. Unfortunately the major benefit for MI and stroke occurs in the first 90 minutes from symptoms and by 3 hours is not worth the side effects. Oxygen starved tissue dies quickly. But patients are looking for something to be done; they get this something.
"PERCUTANEOUS CORONARY INTERVENTION (PCI), commonly known as coronary angioplasty or simply angioplasty, is a non-surgical procedure used to treat the stenotic (narrowed) coronary arteries of the heart found in coronary heart disease. During PCI, cardiologist feeds a deflated balloon or other device on a catheter from the inguinal femoral artery or radial artery up through blood vessels until they reach the site of blockage in the heart. X-ray imaging is used to guide the catheter threading. At the blockage, the balloon is inflated to open the artery using water pressures some 75 to 500 times normal blood pressure (6 to 20 atmospheres). Usually, patients receive medication that will relax them to protect the arteries against spasms. [The best drugs are morphine and lidocaine. Pharma prefers tranquilizers for they cloud cognitive function and thus promote over treatment.] Patients are typically able to walk within two to six hours following the procedure and return to their normal routine by the following week.[2] A stent is often placed at the site of blockage to permanently open the artery. Other procedures are rotational or laser atherectomy and brachy-therapy (use of radioactive source to inhibit restenosis)" Wiki--a link there is to BBC film showing PCI. Unfortunately like thrombolysis, the major benefits occurs in the first 90 minutes from symptoms of MI or stroke, and by 3 hours is not worth the side effects. Oxygen starved tissue dies quickly.
COMPARISON OF PCI TO THROMBOLYSIS. Thrombolysis has a 10% mortality, compared to a 7% PCI (average wait times 112 minutes) in trial of 4003 patients.[3] These trial results are applicable to only about 15% of all acute events because of the rapid response time (another example of pharma clinical trials flawed by designed so a s to promote marketing objectives). PCI when available within an hour in the clinic is superior to thrombolysis (only a small percentage of patients meet these criteria). Patients who experience swelling, bleeding or pain at the insertion site, develop fever, feel faint or weak, notice a change in temperature or color in the arm or leg that was used or have shortness of breath or chest pain should immediately seek medical help. The risks from both procedures are greatly under-reported. Deaths are routinely attributed to the natural course of the AMI and a subsequent stroke or cholesterol embolism attributed to existing AS, and not to the procedure. Guidelines call for intervention within 6 hours, results support significant benefit within 1.5 hours of first symptom. After that side effects entail a negative result.
Elective Treatments (usually performed months after an MI): The coronary vessel with hard stable plaque is not the site of the MI[4]. Unstable plaque causes 90% of the MIs; thus PCI and bypass surgery are ineffective at reducing mortality or a second MI. Studies have failed to find reduction in hard endpoints for angioplasty vs. medical therapy for stable angina patients. PCI and bypass surgery are about 60% effective after 5 years at significantly mitigating angina pain. Wiki. However, similar results occur for angina without the procedure after 5 years due to revascularization. Elective bypass surgery causes pump head (significant cognitive decline) in 25 plus percent of patients, and there are other side-effect. "It is also clear that both angioplasty and bypass interventions do not prevent future heart attack" Wiki.
Polypharmacy: the use of 5 or more drugs following an MI "a legitimate treatment regime could include a statin, an ACE inhibitor & a beta-blocker [for hypertension], [low dose] aspirin, paracetamol [Tylenol], anticoagulant, and an antidepressant' Wiki, and an arrhythmia drug. Costs often run over $60,000 yearly. Pharma knows that those who undergo radical interventions--bypass, angioplasty, and thrombolysis--are more likely to comply with the drug cocktail. The effects of these drugs on quality of life is significant; most common is major cognitive decline and myopathy.
Angina: "AGINA PECTORIS – commonly known as angina – is chest pain due to ischemia of the heart muscle, generally due to obstruction or spasm of the coronary arteries.[1] The main cause of Angina pectoris is coronary artery disease, due to AS of the arteries feeding the heart. The term derives from the Latin angina ("infection of the throat") from the Greek ἀγχόνη ankhonē (strangling), and the Latin pectus (chest), and can therefore be translated as "a strangling feeling in the chest". There is a weak relationship between severity of pain and degree of oxygen deprivation in the heart muscle (i.e., there can be severe pain with little or no risk of a Myocardial infarction and a heart attack can occur without pain). A study of 303 cases of angina found that 1 in 4 men having a heart attack within 5 years and one in 8 for women. About 30% of those over the age of 55 will die within 8 years. Half of those sustaining an MI have angina following it. Only 23 percent of infarctions were preceded by angina. STABLE ANGINA: Also known as effort angina, this refers to the more common understanding of angina related to myocardial ischemia. Typical presentations of stable angina is that of chest discomfort and associated symptoms precipitated by some activity (running, walking, etc.) with minimal or non-existent symptoms at rest or with administration of sublingual nitroglycerin. Symptoms typically abate several minutes following cessation of precipitating activities and reoccur when activity resumes. In this way, stable angina may be thought of as being similar to intermittent claudication symptoms.
UNSTABLE ANGINA: "Unstable angina (UA) (also "crescendo angina;" this is a form of acute coronary syndrome) is defined as angina pectoris that changes or worsens. It has at least one of these three features: (1) occurs at rest (or with minimal exertion), usually lasting >10 min; (2) severe and of new onset (i.e., within the prior 4–6 weeks); (3) ours with a crescendo pattern (i.e., distinctly more severe, prolonged, or frequent than before).Studies show that 64% of all unstable anginas occur between 10 PM and 8 AM when patients are at rest. This cap (atherosclerotic plaque) may rupture in unstable angina, allowing blood clots to precipitate and further decrease the lumen of the coronary vessel. This explains why an unstable angina appears to be independent of activity--most often between 10 PM and 8 AM." Wiki. Too much is made of unstable angina as a way to sell drugs and bypass and PCI. AVOID: Beta blockers and calcium channel blockers act to decrease the heart's workload, and thus its requirement for oxygen, but the effect is minimal and the side effects long-term are serous, and they increase mortality. A heart whose function has been compromised by long-term drugs that effect nerves to reduce blood pressure is more likely to fail under stress of an AMI. Only looking through a selective window are they justified by clinical trials. Nitroglycerin is best for angina pain and best long term is treatment designed to "stopping and even partially reversing the atheroma growth process" Wiki. Angina gradually diminishes over several years through the process of revascularization.
Imaging: it has limitations for a number of reasons. First, over half of all AMI occur without significant clinical signs; viz. they don't show up on imaging. Second, over 90% of events are not caused by occluded coronary vessels, but by young unstable plaque with occlusion under 50%. These vessels don't show up under with imaging as diseased. Third, there are no effective treatments for those vessels with unstable plaque, even if they were revealed. Fourth, for the occluded vessels interventions such as PCI and bypass are ineffective, thus the knowledge doesn't affect the course of events. Fifth, angiogram has significant risk of both major and minor events, one study found an increase of 23%. If you must know, the best indicator is a sonogram of the carotid artery; and hypertension is also an indicator. Conclusion: Imaging gives to diagnosis the sound of authority; thus technology is a sales tool for additional treatments.
Two essential points for understanding why the recommendations below are contra pharma's position. One that pharma has tobacco ethics: the rule by which corporations function to maximize profits. Second, applying this rule, they do all that is necessary to promote their patented drugs, and to reduce the usage of off-patent drugs. Research is done for marketing goals, thus bias is the norm. The drugs listed below have a compelling body of evidence published at /rc , diet at /rh. How pharma applies tobacco ethics and thus influence the practice of medicines is at bad pharma, /rep, and Junk treatments, There are links to a collection of the best of university lectures and documentaries on the issues raised.
---
HEALTHFUL CHOICES
Lifestyle makes a difference: The greatest gains are from weight control, low-carbohydrate-sugar diet to prevent insulin resistance, cessation of smoking, and vigorous exercise. Rapping the heart in a layer of fat and making the heart pump harder through miles of blood vessels are consequences of obesity. Moreover with obesity, adipose tissue affects the feedback mechanism that regulates insulin; thus the risk of type-2 diabetes increases by 30 fold. Diabetes causes a higher level of blood borne sugars thus increases glycation which causes endothelia dysfunction. Diabetes causes red blood cells to leak out of capillaries which cause an immune response by macrophages. For these reasons diabetes doubles the rate of MI. Diabetes shortens life an average of 5 years and with obesity more. The carbon monoxide--a reactive chemical that damages LDL-- from tobacco doubles the rate MI. A pack-a-day smoker shortens their life on an average 12 years. Carbon monoxide promotes the production of unstable plaque, thus with cessation, the risk for MI dramatically drops over the next 5 years. Vigorous exercise strengthens the heart, better vascularization, lowers blood sugar level, & has anti-inflammatory effect thus and healthful effects upon the epithelium (cell walls) of arties. Controlling for lifestyle contravening variables, senior runners extended life 8.7 years, & it improves quality of life. "Exercise capacity is a best predictor of mortality" NEJM.
Diet makes a difference, but not the diet that pharma & our government teaches which promote the fat-cholesterol myth. In 11 out of 12 studies reviewed in Wikipedia, results showed no benefit from low fat, or increased ratio of polyunsaturated fats "A meta-analysis of 21 studies considered the effects of saturated fat intake and found that Intake of saturated fat was not associated with an increased risk of coronary heart disease [CHD], stroke, or cardiovascular disease [CVD]" Wiki. The initial cause of CVD process is pathogens, the process is accelerated by glycation throughout the body and insulin resistance, both of which are promoted by a high refined carb diet and especially sucrose which is one half fructose. A high sugar diet (especially fructose) is associated with insulin resistance (high blood sugar level), diabetes, and metabolic syndrome; all are causal factors for AS. As stated before, most fats are not the culprit: "Indeed, recent prospective cohort studies have not supported any significant association between saturated fat intake and cardiovascular risk" BMJ. Instead, saturated fat has been found to be protective. Trans-fats and high amount of omega-6 fatty acids[1] (main source is vegetable oil); both promote CVD. In most countries trans-fats are effectively banned (not the US), and the ratio of the omega 6 acids can be reduced by decreasing the use of vegetable oils with the exception of coconut, palm kernel, and olive oils. Go to for diet and for in depth supporting evidence on carbs, and fats.
Aspirin: "Irreversibly blocks the formation of thromboxane A2 in platelets, producing an inhibitory effect on platelet aggregation. This antithrombotic property makes aspirin useful for reducing the incidence of heart attacks. Since platelets have no DNA, they are unable to synthesize new PTGS once aspirin has irreversibly inhibited the enzyme, an important difference with reversible inhibitors…. aspirin induces the formation of NO-radicals in the body, which has been shown in mice to have an independent mechanism of reducing inflammation." Wiki. The platelet effect reduces thrombosis risk over 40% (with 325 mg) and the NO (nitrous oxide) in slowing/preventing atheriogenesis. Atherogenesis slowed: "strong evidence that AS is slowed down in a dose term … aspirin," and stopped. This effect is dose dependent, comparing 900 to 50 mg of aspirin. At 325 mg with meals aspirin has an anti-inflammatory effect and thus prevents the formation of young unstable plaque, the cause of ischemic events. Benefits; Various mechanisms: By NO endothelial cells from oxidative damage, inhibits leukocyte attacks, cytokinies, & CD36. The anti-inflammatory effect has other healthful consequences. Also prevents cancer and cures it by stimulating the body's necrosis factor. And has other benefits. The risk of bleeding is greatly exaggerated by pharma who opposes prevention of chronic conditions through their numerous marketing clinical trials and use of opinion leaders to instruct physicians in their required continuing education classes (the same has been done with estrogen). The increased risk of major bleed with aspirin long-term is 4%. Aspirin is both effective at preventing cancer and reducing the risk of it become fatal (metastatic).
Estradiol with progesterone (natural HRT, NHRT): Estrogen is why women prior to menopause don't have cardiovascular disease. Estrogen lowered by 20% cholesterol, 37% LDL (bad cholesterol) and raised by 14% HDL 14%, extends life 2.1 years, Braunwald, Heart Disease …, 5th Ed, 1997, p 1708 tables. "Estrogen-replacement therapy decreases CAD morbidity and CAD mortality … was 0.56 compared to subjects not taking estrogen" [a 44% reduction] Braunwald supra 1142. Another study found a 50% reduction in CHD. Estradiol blocks oxidation of LDL to prevent AS. "Estradiol completely reverses the effects induced by OX-LDL on the DDAH/ADMA/NO pathway," Avoid MPA and LNG (levonorgestrel). Another study found 26 deaths for estradiol vs. 56 for placebo. A meta-study found a 50% reduction of Coronary Heart Disease. AHA study explains mechanisms of cardio protection. Angina pain (cardiac syndrome X) associated with low estrogen, treated. Estradiol plus progesterone for CVD & death is the best HRT. Other benefits of natural HRT: the prevention of osteoporosis, Alzheimer's disease, colon cancer, and arthritis.
Testosterone: Prevents metabolic syndrome MetS (poor cholesterol profile, obesity, and high blood pressure): "Emerging evidence suggests that testosterone [TTT] therapy may be able to reverse some aspects of metabolic syndrome" And another. "These results suggest that low SHBG [sex hormone-binding globulin] and/or AD [androgen deficiency, TTT] may provide early warning signs for cardiovascular risk and an opportunity for early intervention in non-obese men." In a matched study followed ten years published by the AHA found that the lowest quarter of men were 41% more likely to die from cancer and cardiovascular disease compared to the highest quarter. Low TTT is associated with cardiovascular disease. TTT Inhibits atherogenesis: in a survey paper, "Positive correlation between total or free testosterone level and HDL and a negative association the LDL" and. Conclusion: "A normal physiological level of TTT in men protects against the development of high cholesterol, insulin resistance, hypertensions, clots that cause heart attacks, obesity, and increased waist:hip ratio, all of which predispose to the development of CVD. Low or low normal TTT is implicated in the pathogenesis of acute MI and acute stroke. The decline of TTT with age may explain the greater risk of CVD with advancing years" [medical terminology simplified by jk]. TTT is good for your heart, muscles, and blood vessels. Heart Attack, after controlling for factors low TTT associated with MI, positive effect upon fibrinolytic pathway, reduces angina. Among other benefits of TTT are improved libido, quality of life, & mood elevation. It has positive effects upon cardiovascular system because of reduced fat and insulin resistance, reduces inflammation, promotes physical activity, and increases muscle strength—the heart is a muscle.
Coenzyme Q10 (CoQ10, Q10): For heart failure (HF): the heart isn't able to adequately pump blood, thus it pools in parts of the body, such as the lungs and legs. "Several clinical studies suggests that Q10 supplements help reduce swelling in the legs; reduce fluid in the lungs to making breathing easier; and increase exercise capacity in people with heart failure, and reduces hospital admissions by 61%", similar, also, long-term and safety. After Heart Attack and Angina pain: A clinical study found that people who took daily CoQ10 supplements within 3 days of a heart attack were less likely to have subsequent heart attacks, less chest pains, die of heart disease. The capacity for exercise improved about 30% for those with chronic heart failure on taking Q10, also. High blood pressure: In a meta-analysis of 12 clinical studies, Cochrane concluded that Q10 lowers systolic blood pressure by up to 17 mm Hg and diastolic blood pressure by 10 mm Hg, probably from improved heart functions—that is greater than any hypertensive drug. Bad cholesterol: Q10 attaches to LDL. It reduces oxidative damage and thus slows atherogenesis. The mitochondria produce ATP, the energy source for nearly all bodily functions. Q10 protects the mitochondria from oxidative damage, and thus will very significantly improve, when taken long term endurance for those over 60 years and through fitness improves cardiovascular functions, reduces insulin resistance, and like. The decline in function of the mitochondria is the reason for the dramatic drop in endurance of the elderly. The increased production of ATP entails that the elderly are more likely to survive an MI. The anti-oxidant effect in the mitochondria and upon atherogenesis requires Q10 taken life-long. There are numerous other benefits including improving blood sugar level in diabetics, for prevention of Parkinson's disease, migraines, and macular degeneration, and it should be used with statin therapy, since stains partially block Q10 production. It is natural with no known side effects even at a high dose of 2,400 mg daily.
There is a large body of clinical trials and epidemiological studies that have shown that cholesterol and high saturated fat diet have no effect upon promotion of CVD, and conversely that a low-fat, low-cholesterol diet is not cardiovascular protective (see Cholesterol Myth). As stated prior pathogens within the tunica media of the artery and the immune response is the primary cause, thus drugs listed below to lower cholesterol are ineffective though they are much safer than Statins. Since so many believe in the cholesterol myth, the natural method of lowering blood cholesterol with niacin and its inositol form are included below. Also included is exposure of hypertension myth as a cause for adverse events—it is merely a symptom of AS and thus a sign of CVD, not a cause.
---
[1] High ratio of omega 6 to omega 3, omega 6 occupies the pathway in which omega-3 is converted to an inflammation modulator. Ancestral diet was low in vegetable oil had a ratio between 1:1 to 6:1of omega-6 to omega-3; western diet the ratio is 16:1. Consumption of trans fats is associated with inflammation biomarkers and endothelial dysfunction, at.
Niacin improves cholesterol profile by lowering of plasma triglycerides mobilization from adipose tissue, and inhibiting hepatocyte diacylglycerol acyltransferace synthesis of triglyceride thereby lowering cholesterol and thus "inhibits the synthesis of apo-lipoproteins and the influx of free fatty acids (FFA) into the liver, which is the precursor of triglycerides." "A single dose of niacin 200 mg given in the fasting state [at bedtime] provides a prompt and marked fall in serum FFA level, with a rebound after some hours. A comparable fall in plasma FFA occurs normally following a carbohydrate-containing meal, when adipose tissue lipolysis [making lipoproteins] is inhibited by insulin, and re-esterification of FA in adipose tissue cells is increased by glucose. Therefore, the FFA level is usually low during the day, when carbohydrates are the predominant source of calories [thus preventing niacin and statins from reducing FFA]. Lipolysis becomes active in the post-absorptive state at night, when the FFA-level is approximately double the daily mean level. "Oral administration of niacin … during the day does not appreciably alter this pattern." This is why blood work requires fasting, and why niacin and IHN should be taken at night, when the insulin level is low. Thus a low dose extended release at night-- 200 to 500 mg--is sufficient. Regular niacin has a peak in 30 minutes and a half-life under 1 hour. Pharma's recommendation of a mega dose of niacin (ignores INH) creates very low compliance due flushing, and during the day for minimal effectiveness. This pattern of marketing first is the norm for Pharma. Since FFA are modified and packaged with cholesterol in LDL, niacin lowers the level of LDL.
Inositol hexanicotinate (IHN, a source of niacin): The literature is thin, since Pharma members won't research a flush-free, effective treatment for high cholesterol. Though IHN releases niacin, it does at too low a rate to affect the same bio-pathway as niacin (peak for Niacin is 45 minutes, IHN 8 hours). (A criticism by Pharma of INH, but shown false in a quality study using blood samples drawn at night). INH affects Free Fatty Acids (FFA) like niacin. "FFA is a precursor of plasma triglycerides. Lipolysis becomes active in the post-absorptive state at night, when the FFA-level is approximately double the daily mean level…. The Xanintol esters and IHN were superior at lowering FFA," at Eur. J. Clin. Pharmacol. 16, 11-15 1979. In another study, "At 6 weeks of usage [1650 mg IHN] found a nearly 20% improvement in cholesterol profile". The evidence supporting the use of extended release niacin and inositol are about equal, thus no preference is expressed here.
Hypertension: Hypertension is a result of AS, thus lowering blood pressure has little effect upon ischemic events. Treating blood pressure is like treating fever; it is treating an effect of rather than a cause. Treating the effect has little benefit, but for pharma. Instead treat the causes of atherogenesis which produces young unstable plaque. Start with lifestyle changes of exercise, weight control, exercise, and healthful diet low in salt & refined carbohydrates. Take Q10, aspirin, and hormone replace if suitable. This approach will lower blood pressure while reducing risk of adverse events. Short of malignant hypertension (systolic under 180 and diastolic under 110) don't attempt to lower blood pressure with drugs.[1] Moreover blood pressure fluctuates during the day and is significant, and dependent upon situation when taken. Relax when blood pressure is taken; it will reduce systolic pressure by at least 10. "One study found that 41% of patients 50 and older who were carefully taken off their high blood pressure medications did not need them, having normal blood pressure 11 months after the drug was stopped"18 Worst Pill. "Only the thiazide and loop diuretics have good evidence of beneficial effects on important endpoints of hypertension, and hence, should usually be the first choice when selecting a diuretic to treat hypertension. They are the recommended as first-line treatment in the US (JNC VII) [5] and European (ESC/ESH) [6] guidelines…. Thiazide diuretics also increase calcium re-absorption at the distal tubule" Wiki. Thiazides are "associated with an increase in bone mineral density and reduction in fracture rates attributed to osteoporosis" Wiki. And their cost is under $100/year. The other drugs for hypertension are not worth their side effects.