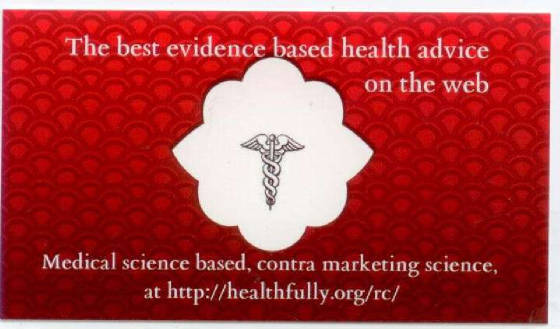 Guide Des 4,000 Medicaments
by Drs. Evan & Debre, Sept. 2012. As of 8/2013 the book is not available in English. Translanted:
"The Guide to the 4,000 Useful, Useless or Dangerous Medicines
".
They are particularly harsh about lipid-regulating statins and have singled out 58 drugs, that are used for a wide range of conditions, like diabetes and osteoporosis, which they claim are outright dangerous.
THIS SITE HAS ITS OWN EXCLUSIVE SEARCH ENGINE supplied by Google BELOW
half the 4,000 drugs are useless and dangerous
Dr Evans said in an interview to the Guardian: "The pharmaceutical industry is the most lucrative, the most cynical and the least ethical of all the industries," Dr. Philippe Even tells The Guardian. "It is like an octopus with tentacles that has infiltrated all the decision-making bodies: world health organizations, government agencies, parliaments, high administrations in health and hospitals and the medical profession."
Google internal search engine ABOVE & BELOW -- please use

A thought experiment: Think like the CEO of Merck (a wealthy marketing executive whose standard of review by the Board of Directors is based on the Merck's maximization of quarterly profits. You are a hands-on CEO who reviews essential aspects of the business. In the pipeline is a new type of heart medication which will replace the off patent Zocor. The FDA has agreed not require prevention of death or lower incidence of heart attacks, but merely for the drug a PCSK9 inhibitor, Zetia, to lower cholesterol, which is a surrogate outcome. You review the conditions for the phase III trial which will be submitted to the FDA for approval. By using a surrogate outcome, it entails that you don't have to use a control group who take a placebo. There is no troubling control group to compare deaths and heart attacks. The statin Zocor in 2 later phase IV trials failed to demonstrate compared to a placebo group that Zocor prevented heart attacks and deaths. Fortunately you didn't have to submit those negative results to the FDA, or publish them in journal. You select a patient population which has familial hypercholesterolemia (their total cholesterol averages 3 times the norm). This population of 300 averages 30 years of age (older volunteers would have more side effects including deaths and heart attacks) is ideal. You run the trial for just 9 weeks to lower the side effects, most of which take months to develop. Unlike the journals, the FDA is given all the raw data from phase III trials. Journals are not given the raw data. Once approved, you will then expand usage on the basis of testing with junk marketing science, called "phase IV studies" and then publish them. No FDA approval is needed for new usages as long as Merck doesn't advertise the new usage. However, you will order tens-of-thousands of reprints of the tobacco science phase IV trial's journal articles to distribute to doctors by your sales reps. You are now running a phase IV trial on Alzheimer's disease. Your KOLs will instruct physician on Zetia uses in required continuing education class funded by Merck. You schmooze with "donations" politicians, regulators, health care administrators, physicians, and medical organizations. The American Heart Association will establish treatment guidelines for Zetia using a panel of your KOLs which justify the treatment with your junk science. Civil courts plus administrators in hospitals and clinics pressure doctors to follow those guidelines. Merck's television advertising blitz will exaggerate disease risks, hype benefits, and hides side effects. See Side Effects and Marketing Science for an "ad nausea" account of pharma. This is a way all large drug companies do business
MEDICAL LINKS
This site is one of 3 sites maintained by California Skeptics
All with cool art and informative articles 11/27/16
#31 TABLE OF CONTENTS healthfully, over 1,200 pages downloaded per day.
#7 TABLE OF CONTENTS skeptically, over 8,000 pages downloaded per day.
#201 TABLE OF CONTENTS CURRENT NEWS , over 900 pages downloaded per day
# 220 POD CASTS & U-TUBE, for those who like the visual on skeptical issues
#158 RECOMMENDED GATEWAY PAGE Gateway to the research on pharma and health
#152 RECOMMENDATIONS--CONCISE Bad drugs, good drugs, contra pharma
#161 RECOMMENDED HEALTHFUL Improving health including diet and nutritional science
#157 Video documentaries, mostly YouTube Healthful diet, bad pharma, GMOs etc. with description
BUSINESS PROBLEMS:
#152 RECOMMENDATIONS--CONCISE Drugs to avoid and take
#159 RECOMMENDATIONS--LONG Topics developed
#160 RECOMMENDED EXPOSIING PHARMA Profits before people
#161 RECOMMENDED HEALTHFUL Nutrition in depth, diet myths, plus diets
#156 RECOMMENDATIONS NON-TECHNICAL SUMMATIONS Simple info
#157 RECOMMENDED MORE BAD PHARMA More profits before people
#166 RECOMMENDED CRITICS
#175 RECOMMENDED DIETARY TOPICS BY JK Concise non-technical
#167 RECOMMENDED ARTICLES ON DIET AND FOODS
#168 RECOMMENDED ARTICLES ON DIETARY ISSUES
#174 RECOMMENDED DIET TESTIMONIALS
#169 RECOMMENDED JOURNAL ARTICLES
#170 RECOMMENDED MORE JOURNAL ARTICLES
#172 RECOMMENDED DIET JOURNAL ARTICLES
#173 RECOMMENDED HEART ISSUES
#17 QUACKERY (at skeptically.org)
#102 QUACK THEORIES & PRACTICES (at skeptically.org)
#136 ENVIRONMENT & HEALTH
#146 FDA Exposing the fašade of regulation
#147 FOR THE CHILDREN
#162 CORPORATE DRUGS
#150 BLOOD THINNERS AND ACETAMINOPHEN
#152 INDIGESTION DRUGS
GENERAL INFORMATION:
#31 INDEX
#148 FEMALE HORMONE REPLACEMENT
#171 SEX
#154 FOOD
#133 THE HEART
#144 HEART MEDICATIONS & TREATMENTS
#155 CANCER TREATMENTS
#165. CONDITIONS & TREATMENTS
#143 OBESITY
#163 NATURALISTIC TREATMENTS (positive)
#153 EFFECTIVE DRUGS
MISCELLANEOUS:
#42 RHYMED POEMS SOCIAL MESSAGE
e-mail to thinker@skeptically.org
There is grass root revulsion to the current corporate health industry, with pharma doing the most harm. The best account of bad pharma is by Danish Prof. Peter Gotzsche in his 2013 book Deadly Medicine and Organised Crime: How big pharma has corrupted healthcare. Prof. Gotzsche's book has won the British Medical Book Award given by the BMA (British Medical Association which is comparable to our AMA). Further endorsement comes from the Richard Smith former Editor-in-Chief of the BMJ (British Medical Journal) and Drummond Rennie, Deputy Editor of JAMA (Journal of American Medical Association) which are 2 of the 4 leading English medical journal. The President's Lecture on YouTube by Harvard Professor Marcia Angell confirms Prof. Gotzsche's book. Pharma is worse than you can imagine.
Todd Shorr